IT'S OFFICIALLY SUMMER VACATION - BIG SIGH!
That big sigh of relief is coming from the Mommy! Phew! Summer 2011 - here we come! ;)
it's not summer in the Philippines, but it's still is going to be a semi- Pinoy family summer - not complete without the classic baby inside pool aka pail
And it's time to get social in blog again.... linking this here - Friday Social Parade.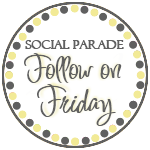 Keep exploring!